All We Know About GTA V (Characters, Locations, Vehicles)
Posted March 21, 2012 by Admin in
Previews
Grand Theft Auto V, also known as GTA 5 or GTA V, is a Rockstar North video game currently in development. It is the next installment in the Grand Theft Auto series.
GTA V was announced on October 25th 2011. The first trailer was released on the 2nd of November 2011, at 1600 GMT. Take-Two Interactive, Rockstar Games' parent company, shares jumped seven percent following the revelation that Grand Theft Auto V is in development. On January 7, 2012 Rockstar North have most recently begun accepting applications for Game Testers in Grand Theft Auto V.
The Protagonist
"Why did I move here? I guess it was the weather. Or the… Ah I don't know, that thing. That magic."

―The protagonist during the teaser tralier
Grand Theft Auto V Protagonist is the currently unnamed presumed protagonist of Grand Theft Auto V.
"You see it in the movies. I wanted to retire. From what I was doing, you know? From that, that… line of work. Be a good guy for once, a family man. So, I bought a big house. Came here, put my feet up, and thought I be a dad like all the other dads. My kids, would be like the kids on TV. We could play ball and sit in the sun. But well, you know how it is. "

―The protagonist during the teaser tralier
Judging by what he says in the trailer he was once a criminal. He left that line of work and moved to Los Santos, presumably he was wealthy as he mentioned buying a big house, to live a normal life with his family. He mentions having children whom he wants to be like the children on TV.
For a currently unknown reason he decided to return to a life of crime, at some point robbing a jewelery store with two unknown accomplices disguised as pest control.
Location
On November 3rd 2011, Rockstar Games confirmed that the game will take place in Los Santos and the surrounding countryside – and will not feature a recreated rendition of an entire State of San Andreas – in a statement on their Newswire:
"We are very proud to officially announce that Grand Theft Auto V is in full development."
Developed by series creator Rockstar North, Grand Theft Auto V heads to the city of Los Santos and surrounding hills, countryside and beaches in the largest and most ambitious game Rockstar has yet created.
"A bold new direction in open-world freedom, storytelling, mission-based gameplay and online multiplayer, Grand Theft Auto V focuses on the pursuit of the almighty dollar in a re-imagined, present day Southern California."
Vehicles
Land Vehicles
Cars, Trucks, SUVs and Utility vehicles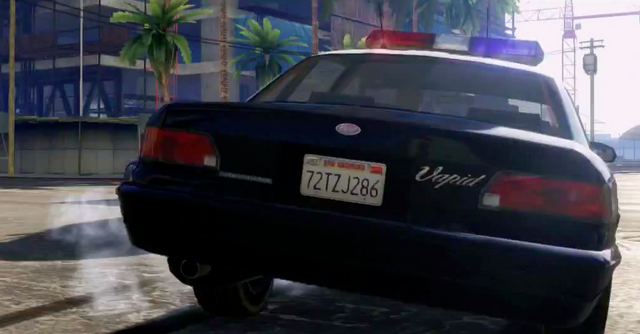 Possibly a Previon
A 2nd generation Burrito.
Possibily a Mesa seen from behind.
A pickup truck resembling a 2003-2008 Ford F-150, possibly the new Contender as it bears no resemblance to the GTA IV version.
An SUV resembling an Infiniti FX
A car similar to a 1950s Chevy or Chevrolet Impala that could possibly be a Tornado
A vehicle resembling the Toyota Camry and the previous-generation BMW 5-series, possibly the new Oracleor another new Ubermacht.
An SUV resembling the Mercedes-Benz M-Class, possibly the Serrano.
A muscle car similar to a 1970′s Plymouth Barracuda, very possible to be a Phoenix.
A Convertible resembling the front of and sides of 2008 Nissan 350Z, the sides and rear of a 2009 Aston Martin V8 Vantage, and the head lights, grille, and various other parts of a 2010 Ferrari California.
An SUV resembling the Front and sides of a 1969 Kaiser M715 and the head lights and rear Land Rover Wolf, probably made by Mammoth
A supercar resembling an Audi R8 Spyder
A 2 door coupe similar to a Bentley Continental GT, possibly a new version of a Cognoscenti.
A car resembling a Nissan Cube. This may be the second car made by Annis in the whole GTA series.
A car similar to a Mitsubishi Lancer Evo X and a Subaru Impreza, possibly the Sultan. Appears at 00.58.
Buffalo
Two-Wheeled Vehicles
Watercraft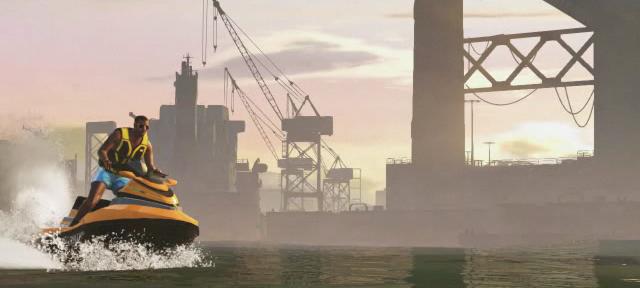 Aircraft
Helicopters
Airplanes
Trivia
In the trailer converitbles are shown retracting their soft top covers.
Semi-trailers are shown towing tractor trailers for the first time since GTA San Andreas. One of the semi-trailers appears to be a flatbed.
Airplanes resembling pilotable ones from previous games are shown flying, leading to the possiblility that airplanes could be pilotable.
License plates vary from vehicle to vehicle, some examples are 72MYS362, 88YZG127, 72TZJ286, 04EAY868, and JAX1079W. This feature was first seen in San Andreas.
Electrified railroad tracks could be seen next to the highway and under the bridge. There might be public transport representing the Los Angeles Metro Rail. (You can see the overhead catenary lines)
At the end of the first Trailer for GTA V there is a Blimp off in the distance. This vehicle will most likely be in GTA V, but whether this will be pilotable is unknown.
All We Know About GTA V (Characters, Locations, Vehicles), 5.0 out of 5 based on 1 rating